SeaWorld San Antonio presents Howl-O-Scream 2015
All events are subject to change due to weather or other concerns. Please check with the venue or organization to ensure an event is taking place as scheduled.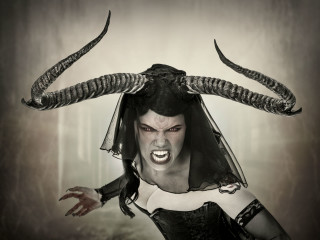 Howl-O-Scream 2015 will feature the new haunted house, Unearthed: Scarlett's Revenge, from award-winning horror filmmaker extraordinaire, Robin Cowie, producer of The Blair Witch Project.
Cowie and his team of storytellers crafted a dark new tale of Scarlett, a village healer who turned to dark magic to avenge her husband's killers. As her powers grew, she was hunted, trapped and buried alive deep beneath the park…but has now been Unearthed to summon terror on unsuspecting guests. Guests venture into a mysterious centuries-old house filled with secrets, and terror awaits all who dare to enter as Scarlett summons and collects body parts to reincarnate her dead husband.
Howl-O-Scream 2015 opens Saturday, Oct. 3 and runs Saturday and Sunday nights and select Fridays through Oct. 31. The park opens at 5 pm on Fridays and 1 pm on Saturdays and Sundays; the scares and screams begin at 7 pm nightly. Unearthed and other nighttime terrors may not be suitable for guests under the age of 13; however there is plenty of daytime Halloween fun for young guests.
During the day, families can enjoy a kid-friendly Halloween experience with the all-new Pets Ahoy Halloween, a comical show featuring the talents of rescued dogs, cats and other animals in a series of uproarious skits, and Who Said Boo, featuring Elmo, Zoe and all their Sesame Street friends. Kids can also hop aboard the SeaWorld Express, a festive Halloween train ride; and experience Brunch with Count Von Count.